It's an honor to feature the work of Claudia Bianchi in today's post. Her floral paintings in oil are jaw-dropping and I was delighted to learn more about her process and inspiration.
Claudia's Journey
When I was a kid, I wanted to do pottery. So, my siblings and I took an old turntable and converted it into a wheel for throwing the pottery. We had so much fun! In a way, it was all of our outlets because our parents, on the other hand, were not so happy. Being someone who loves to solve problems, I wish I could have solved theirs but that was not for me to do.
I ended up taking my creativity elsewhere. At age 9, I became a painter, and this is where my passion still lies. I recall creating this still life and being enthralled by it. I knew I never wanted to quit, and I have not. Since then, it has been a joy to work with oils, watercolors, and acrylics. I am constantly switching back and forth as I see fit or based on something I envision. I love how each medium lends to a different unique feel. When the textile industry started to gravitate toward painted graphics I was interested. It was a way to combine my two loves and careers, both as an artist and a textile designer. I never would have dreamt that my floral paintings in oil would become artwork on fabric. It is so exciting!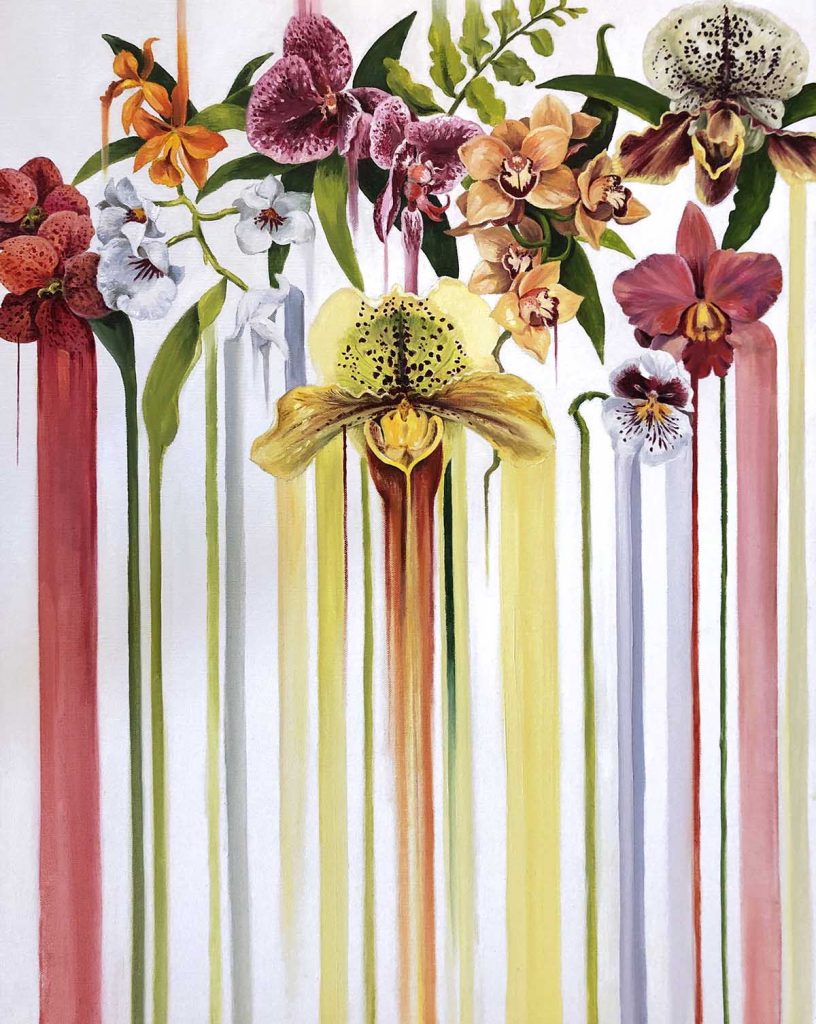 Claudia's Floral Paintings in Oil
I enjoy working in oils, watercolors, and acrylics. My latest series, called "Meltdown," was created during our 10 weeks of quarantine. I set a goal for myself to do one painting a week and I succeeded. These 10 paintings have helped me to cope with the gravity of the world and are reminders that it is important to hold on to beauty and hope in this world. I shared some insights about this on my blog.
All of the paintings in this series are floral paintings in oil on canvas. I started off with the floral or landscape compositions and then did the striping freehand. The orchids were done from photos I took at the Chicago Botanical Garden Orchid show last year just before COVID hit. For the flowers, I made the compositions up based on references I gravitated toward. The landscapes are mostly the result of my imagination.
I also enjoy creating watercolors that are "inspired by nature and the shadows from nature I see on my walks." One other series I really had a fantastic time creating is called Dadotism. It is a graphic series "done in acrylics but without a brush. It is all done by drops of paint and some even float off the canvas or crawl up the wall. These are more colorful and playful designs; some floating off the canvas and defying gravity."
Claudia's Recommendations and Favorite Tools
At this time, my favorite artistic tool is oil sticks. These allow me to "draw paint" and push me to use oils in a different way. I have been using R&F Handmade Paint Oil Sticks and they are quite fun! I use them on canvas and paper, and they add an interesting element to my floral paintings in oil. You should give this a try!
People often ask me for recommendations, especially if they are starting artists. My wisdom to you is to follow your heart: if you work hard enough and keep at it you will grow and evolve. For me, there is nothing else I would rather do. I paint every day and it does not feel like work, it is pure joy.
You can see more of Claudia's beautiful work here.