In today's post I am thrilled to feature the inventive photography of Marie Marchandise. It is such an honor to share her story. Some links used within this post are affiliate links, which means I'll receive a small commission if a purchase is made on their site. Thanks for your support.
Marie's Journey
I am a 26-year-old photographer living in Toulouse, southern France, doing the work I love. It is exciting to live out my passion. I exclusively work for independent brands, companies, and establishments that share a similar vision to mine: displaying eco-friendly pieces, preserving a craft, and celebrating diversity, all in an authentic way.
This goal is not always easy; overcoming the "what ifs" and "yes, but" responses I get can be challenging. I must remember that I am not here to distribute medals and superlatives but to celebrate efforts, in a healthy and fair way. Through inventive photography I am able to explore the issues people face daily and also praise the beauty of their work.
Whether it is a farmer, producer, fashion designer jewelry maker, craftsperson, restaurant, or vintage store, I strive to generate creative content. I do this for all the people who have challenged themselves and dedicated their careers to helping to build a better society.
On a personal level, I love exploring new artistic techniques and even make my own up at times. It feels so great to let my inner child out in these moments. If I can help someone else escape, even if only for a few minutes, through my work, I feel such joy.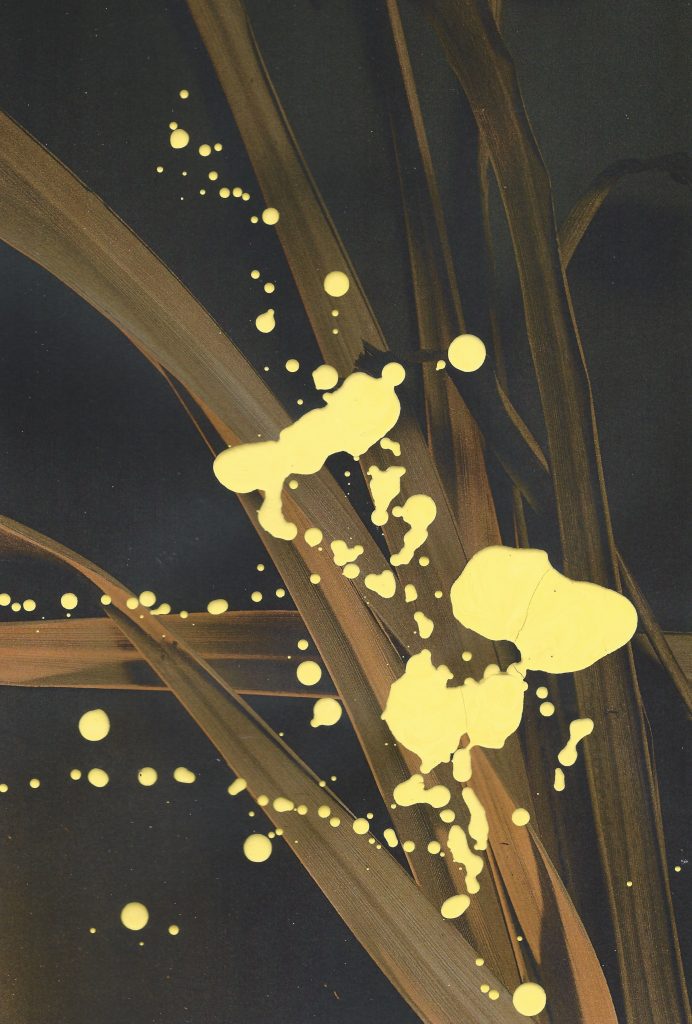 Marie's Inspiration
Having a chronic orphan auto-immune disease is a mark of distinction that you can never get rid of completely. I have scars on my arteries to remind me of what I have gone through. Oftentimes, I felt the heaviness of this in everything I shared about it and even every place I went. This has always been hard for me to understand. Doctors have described my disease as "my body attacking itself."
During all these years when I struggled, I let myself go, which added profound fear and pain to my life. Despite myself, when I felt my body being transformed, when time did not fly but passed slowly, when I had to hold on tightly to myself to face toxic people who cast scornful looks on me, I longed to move on. But with each step, my body reminded me that I could not. The scars on my arteries confirmed this.
And suddenly, I felt compassion, an unconditional and true love. I discovered a new way to view my body. I still do not understand what happened to me, but sometimes, between flare-up episodes of the disease, fatigue, treatments, I forget how society sees and judges me, based on what happens inside of me and how it impacts my external world.
Others judgments are something I cannot manage. When I distance myself to others' curiosity about what is wrong with me. Why do I need to rest? Why do I take things too seriously? Thinking about these things brewing inside of me makes me imagine magma.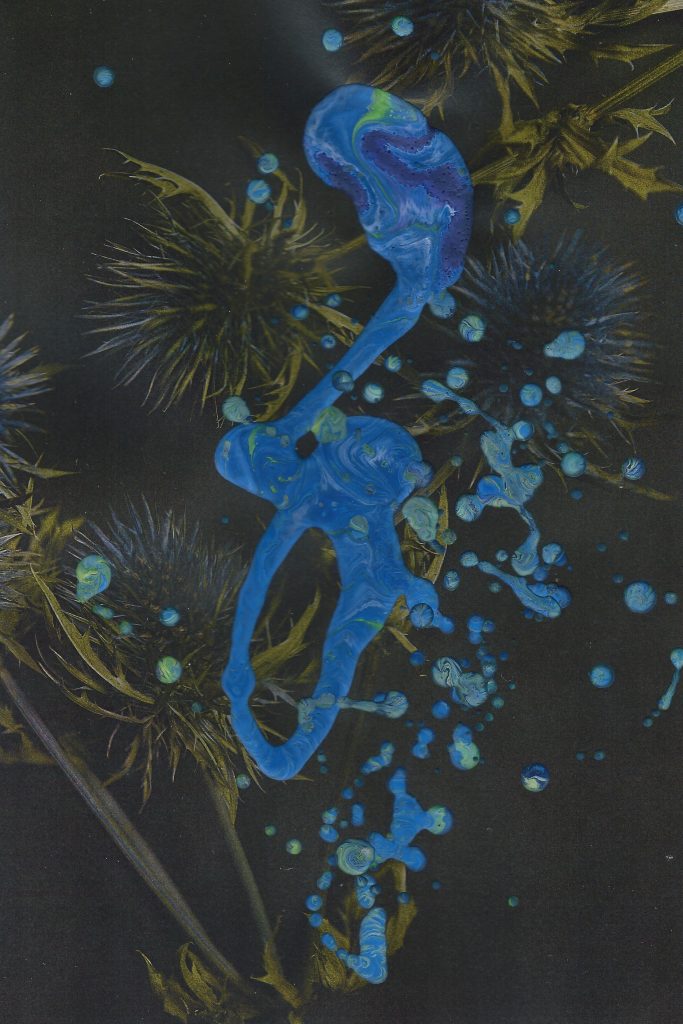 I think about that inner disaster zone, that heart that is pumping, to all the times I heard its pace at the hospital or by putting my hand on my chest when it hurt. I think about my lungs that inhale and exhale, my vital organs, and more abstractly, I think about how this energy moves. How it circulates, the loop-the-loops it makes, and I especially think about the source that it is. I think about what has happened, what has always been there, and that which we cannot process.
Feeling warm, anger and joy, sleeping, opening my eyes in the late morning; this magma is present and showing its presence all the time, in a way that society never points out and never wants you to feel satisfied with.
I am sharing this series of inventive photography with you, not to be a spokesperson or validate behaviors and personalities, but to let everyone know they are beloved and enough. It is not up to us to match others' unhealthy expectations in our life. It is a way to stop saying and feeling words such as "brave," "strength," "always," "never", "superheroes," "victims," and "no choice." To stop using all this vocabulary that ableists and capitalist societies brandish. A vocabulary that never leads to a true conversation. It is about existing between injunctions.
It is my humble wish to have you take note of this magma's manifestations, every day, down to the very last detail. Feel it and celebrate it. Think about yourself. Be accountable and analytical, while also being respectful. There is nothing to prove, just be.
My greatest hope is that this series is helpful and useful for someone, even only for a few seconds.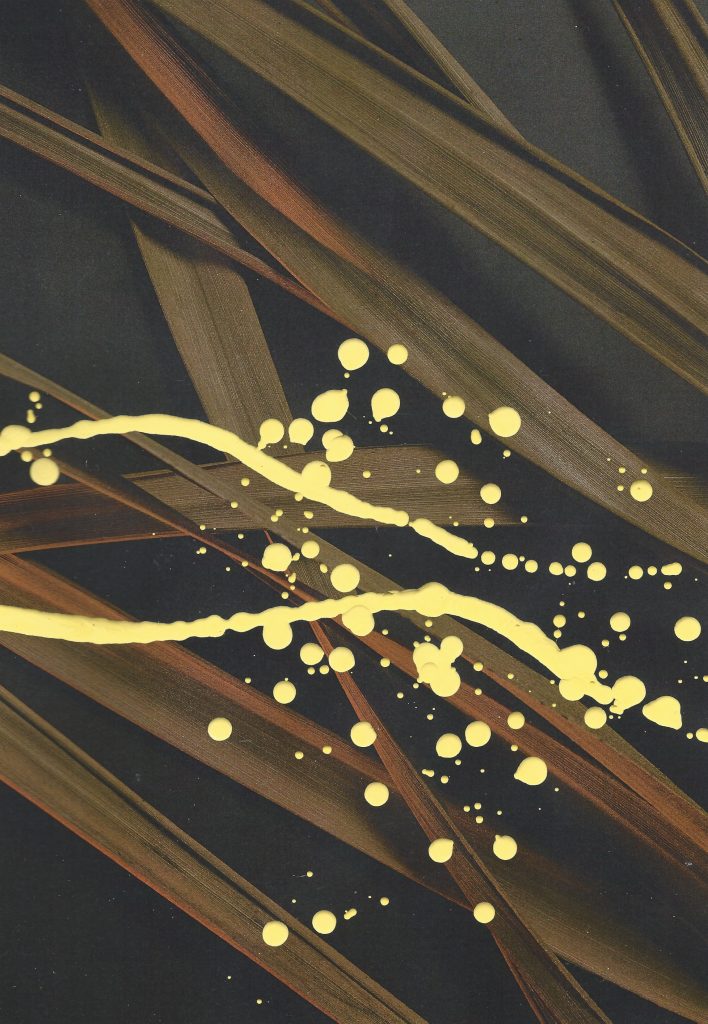 Marie's Inventive Photography
I have chosen to photograph dead leaves and fruits: pomegranates, yucca leaves, and thistles' flowers on a dark background. Each series is composed of triptychs to show an evolution between each shot. Once the photographs were printed, I added melted crayons on them. I tried to make a color match between the plants and the crayons. Finally, I scanned everything. I wanted to photograph "winter plants," as this season is often conceived as a "dead" season, where everything is asleep. But not me! There is always something happening, if only deep inside.
To bring out the true joy and passion of my inventive photography work, I love using melted crayons on photographs. It is also interesting to try new artistic techniques or create new materials to add on my camera.
Please explore more of Marie's work on her website.